The ideal biomass mixer for small biogas plants.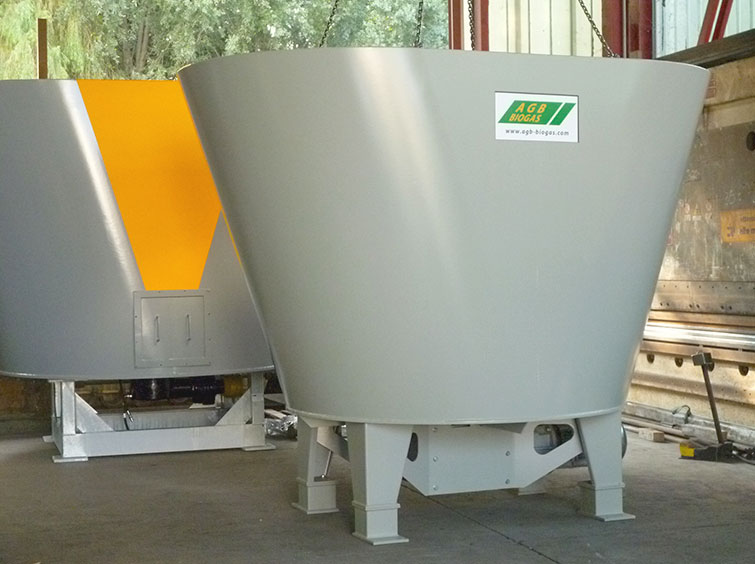 As hard-wearing and reliable as the Biomixer, this biomass mixer stands out on account of its simpler mechanics, making it perfect for small biogas production plants (below 100 kW).

Every last detail of this agricultural mixer is designed to maximize efficiency and simplify work. For example, the discharge hole on the bottom of the tank allows the mixed material to drop by force of gravity, thus preventing any clogging problems.

A hydraulically or manually operated unloading hatch can be fitted.
Screw mixer designed for the most compact biogas plants
This solution offers an excellent combination of practicality, flexibility, quality and price.

The small mixing screw can shred, mix and feed different substrates. This biomass mixer can, on request, be fitted with an adjustable loading hatch, hydraulically or manually controlled, instead of the discharge hole on the bottom.
Mixing screws in steel or AISI 304.
Energy savings and efficiency
Compact gearmotor with low consumption.
Guaranteed continuity of operation
Mechanical simplicity ensures ultra-low risk of component failure.
Loader cover in galvanized or stainless steel.

Discharge hatch with hydraulic or manual operation.
Want to take a closer look at this machine?
A full description of its characteristics is provided here.