Push-floor solid feeder for biogas plants
Perfect loader for the storage of short-fibre biomass that does not require mixing.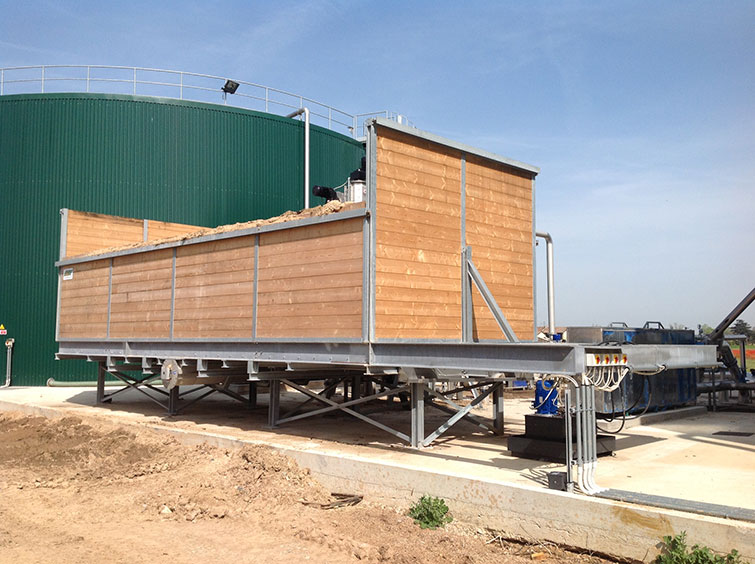 The push-floor solid feeder plays a key role in perfect biomass storage, ensuring the material can be properly conveyed to the biogas production plant digester.

In addition to their considerable strength and durability – the result of construction with carefully selected materials – our push-floor solid feeder provides excellent economic savings and greater autonomy.
The loader has no complicated working mechanisms, making the push-floor solid feeder easy to use and maintain.

Central discharge allows for a reduction in electricity consumption: the pushers feed the biomass into the extraction screw in the middle of and under the loader both on the way out and on the way back.

The variety of volumes we provide allows you to choose the push-floor solid feeder that best suits your plant.
60, 80, 90 and 120 m3, plus special sizes on request.
Protection from rainwater
Stainless steel or galvanized steel hydraulic cover.
Less wear and easy maintenance
No rollers, stainless steel bottom and wooden walls with AISI lining to a height of 50 cm.
Less electricity consumption
The pushers come into operation only when the so-called "bridge" is formed (i.e. when the material does not drop into the extraction screw).
Moving parts in contact with the biomass are made of AISI 304.
Want to take a closer look at this machine?
A full description of its characteristics is provided here.