The most versatile screw mixer for biomass of any type or length.

Versatility, robustness, energy savings and outstanding durability are the watchwords of this internationally renowned biogas loader.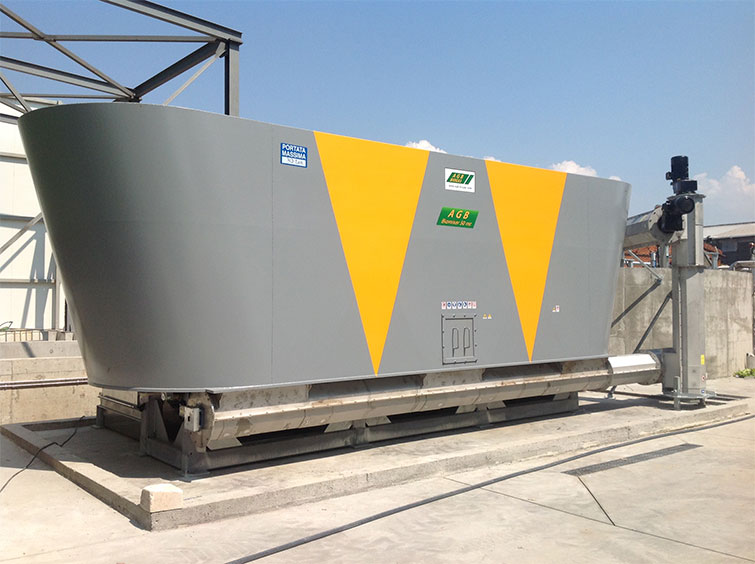 Extremely hard-wearing, reliable and highly user-friendly, our stationary mixer tank provides the main system for shredding and homogenizing biomass and waste materials so they are ready to be conveyed into the digester. Our biomass mixer ensures perfect operation with any material: biodegradable waste (e.g. fruit and vegetable waste, pulp, olive pomace, husks, beets), manure or droppings.

Our stationary biomass mixer has a set-up that makes it highly adaptable to a vast variety of plant requirements.
The screw-type mixer for perfect biomass preparation
Thick internal components ensure this agricultural mixer lasts longer than competing products.

The innovative feature of being able to use the mixing screws alternately causes less wear, reduces electricity consumption and guarantees continuity of processing.
Bottom and mantle with stainless steel lining.
Mixing screws in steel or AISI 304.
Efficiency and energy savings
Discharge on the bottom of the tank or side discharge hatch for each mixing screw.
Low wear and guaranteed continuity of operation
Thanks to the independent, alternating mixing screw operation system.
Biogas loading hopper lid in galvanized steel or stainless steel.

Discharge hatch with hydraulic or manual operation.
Want to take a closer look at this machine?
A full description of its characteristics is provided here.